What is a Blue Badge Guide?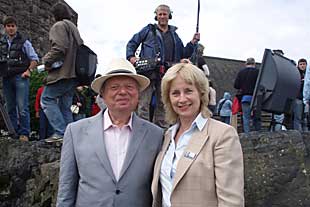 Maggie filming with UK Top TV Presenter, John Sergeant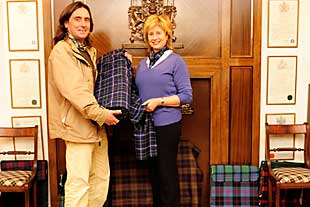 Helping TV Presenter, Neil Oliver, choose a kilt

I am fully qualified and insured to guide throughout Scotland, with a wide range of experience in the leisure market and at Corporate/Incentive level. 
I am an accredited Scottish Tourist Guide having gained the Certificate in Scottish Studies from the University of Edinburgh.
I have many years' guiding experience working at the top end of the tourism market, Film & TV, VIPs, celebrities, corporate and incentive markets.
My special interests are: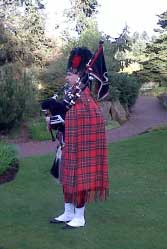 I can organise a piper too
The Highlands and Islands
Archaeology
History
Art and Architecture
Galleries and Museums
Conferences and Incentives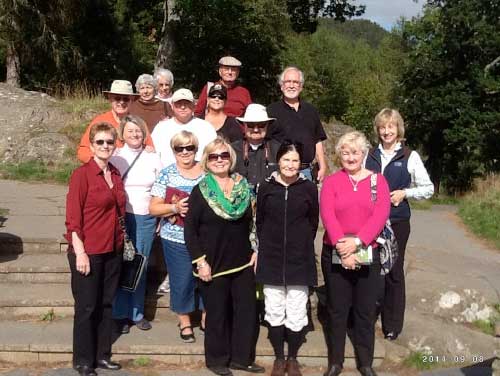 Maggie with US visitors to Scotland 2014
Testimonials
Too numerous to list them all, but here are a few:
"I am writing to express my appreciation of Maggie McLeod.
It was a lovely tour and we had near perfect weather. But the sunshine and charm of the cities and the countryside, though lovely in themselves, were enormously enhanced by the wealth of information and history that Maggie gave us. She is a natural teacher.
One who knows and loves her subject and has the gift to pass it on.
"I was enormously impressed by her as was everyone on the bus. Her warmth, kindness and patience was appreciated by everyone.
"Maggie answered all our questions, settled us in hotels and negotiated with the staff on room changes or anything else that needed doing. She was always trying to do the best for us at tour sights, at meals, or on the road. She is simply a lovely person. We were lucky to meet her. You are enormously fortunate to employ her.
"I am a senior citizen and have traveled a great deal, often on tours. I have not been unlucky, most tour directors were good. But this is the first time I felt compelled to write to commend one. Maggie McLeod is far and away the best.
"I traveled with three relatives, all of whom agree."
Joan M. Turner, US
"Margaret and Ronnie were absolutely wonderful, so charming and so organised. It was the perfect afternoon out and raised everyone's spirits which is just what we needed."
Cathy Blackout, Events Organiser
"Maggie, I have received great post-tour feedback from the States. Many thanks indeed for a great job."
Gordon Adam, Drumgolf, Scottish Golf Tour Specialist
"Our hostess, Maggie McLeod, made our weekend extremely enjoyable. She was most informative and her cheerful manner made us feel relaxed and made us all feel "special". She is a credit to your company. Thank you for a lovely weekend."
Mr/Mrs Hine, Tyne & Wear
"Our guide, Margaret McLeod, was exceptional and all the drivers were helpful."
Mr/Mrs F Williams, Thame
"An excellent weekend made all the better by a confident and knowledgeable hostess, Maggie McLeod, for whom nothing was too much bother."
Mr/Mrs Swatton, Kent
"Dear Maggie, Thanking you with all of our hearts for making this such a wonderful trip. We will miss you but we will always remember your special kindness and attention. With lots of love from the "Castle dodgers" and their mates. xxxx"
Moran Group, USA
"Maggie, Thank you for being such a splendid guide and making my first visit to Mull so special – yes, even with the soft rain!. It's been a lovely weekend lots of fun and I enjoyed it all. Been lovely to meet you and here's to the next time."
Sheila
"Maggie Many thanks for your super guiding. Its been a great holiday."
Audrey
"Thank you very much for a lovely tour, my Welsh group enjoyed it as did I. If you are ever up this way please pop in. Regards."
Cathy Kelly, Altamount Hotel Blairgowrie
"Come and stay with us in Italy! Can't promise such a high standard of guiding as yours but we'll try. Thanks for a superb tour."
Ken and Janet Hobbs, Montepulciano, Italy
Rise! Caledonia
(Sung to the popular tune, 'Highland Cathedral')
"Rise! Caledonia, land where eagles fly
High where the snowy mountains touch the sky
Gliding o'er forest spreading green, so free
Down, where the glen and river meet the sea."
-Patrick Scott Hogg (2003)